MockServer
Easy mocking of any system you integrate with via HTTP or HTTPS

What is MockServer
For any system you integrate with via HTTP or HTTPS MockServer can be used as:
When MockServer receives a request it matches the request against active expectations that have been configured, if no matches are found it proxies the request if appropriate otherwise a 404 is returned.
For each request received the following steps happen:
find matching expectation and perform action
if no matching expectation proxy request
if not a proxy request return 404
An expectation defines the action that is taken, for example, a response could be returned.
MockServer supports the follow actions:
Proxying with MockServer
MockServer can:
MockServer supports the following proxying techniques:
Why use MockServer
MockServer allows you to mock any server or service via HTTP or HTTPS, such as a REST or RPC service.
This is useful in the following scenarios:
Mocking Dependencies & Verifying Request
Given a system with service dependencies, as follows:

MockServer could be used to mock the service dependencies, as follows:

Isolating Single Service / Application
A single page application may load static resources such as HTML, CSS and JavaScript from a web server and also make AJAX calls to one or more separate services, as follows:

To isolate a single AJAX service, for development or debugging, the MockServer can selectively forward specific requests to local instance of the service: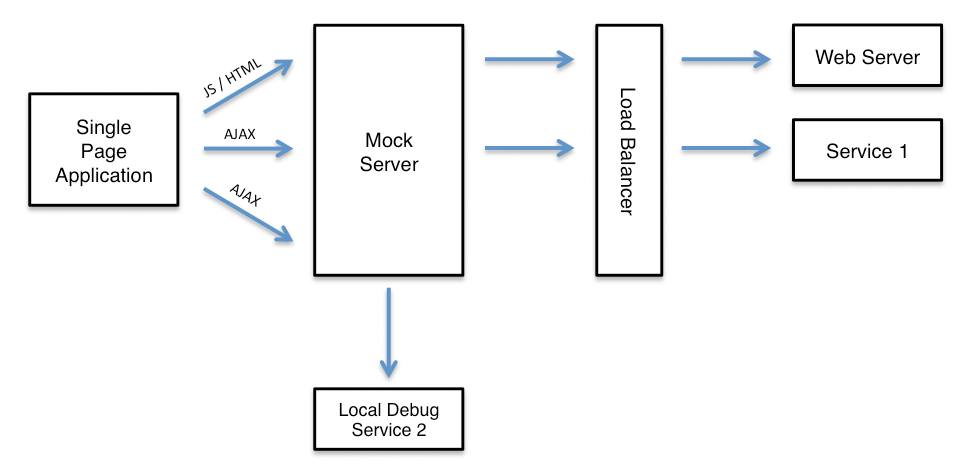 Using MockServer as a content routing load balancer is described in more detail in the section called Isolate Single Service.
Why use MockServer as a proxy
MockServer allows you to record request from the system-under-test or two analysis an existing system by recording outbound requests.
This is useful in the following scenarios:
Recording Requests & Analysing Behaviour
MockServer can record all proxied requests, as follows:

Verifying Request
MockServer can verify proxied service requests, as follows: